At the end of 2019, 74 Master Gardener Volunteers reported 3,420 hours of volunteer service for an estimated value of $82,074 (Independent Sector).  They also reported 1,067 hours of continuing education and reached an estimated 6,213 individuals with various outreach projects.
---
Gardening at UW-Green Bay Sheboygan Campus Gardens
Extension MGVs continue to care for and expand the landscape diversity at the UW-Green Bay, Sheboygan Campus.  This past year included the addition of an ostrich fern garden. The wide selection of horticultural plants continues to impress both MGVs and visitors to the campus.  While some of the existing plant material is signed, the goal for 2020 will be a greater emphasis on signing more plant material as a way to educated garden visitors. Not unlike other gardens across the state, deer have caused significant damage this past winter. 
Sheboygan County Extension MGVs work to build collaborative relationships within the community. They recently partnered with Alliant Energy to secure a $5000 grant from Alliant Energy for the removal of dying ash trees on the Sheboygan Campus. Falling branches from dying ash trees can become a hazard to students and others on campus.  Ash trees, killed by emerald ash borer, become extremely brittle and can easily break as they decline. The Extension Master Gardeners have also provided a memorial gift of nearly $1800 to help purchase replacement trees.
Gardening at Kohler Andrea State Park
Sheboygan County MGVs utilized their horticultural expertise thus enriching the park experience for the roughly 450,000 park visitors each year.  Listed below are the highlights of MGV engagement over the years.  
MGVs worked to transform a poorly drained wet area into an educational rain garden by partnering with the Department of Natural Resources and the Friends of Kohler Andre State Park.  

MGVs and recruits from the Wisconsin Conservation Corps planted aquatic plants on the banks of the fishing pond at Kohler Andrea State Park.

Reared and released purple loosestrife eating beetles ( Gateruella sp.)  within the park thereby reducing the presence of invasive purple loosestrife.

Assisted with the planting of aquatic plants within a new retention pond aimed at improving the water quality of a nearby beach.

Helped to controlled invasive plant species within the park  
Seven MGVs continued the ongoing beautification of the Park's Visitor Center and entrance sign during 2019.  On-going horticulture challenges at the park are best captured by the following statements. "Yikes! Where did all this creeping Charlie come from?  It's overrunning the rain garden. Creeping Charlie rules." "Do we need to cut back or relocate the rudbekia planted around the park entrance sign?"  "Will we ever get rid of the horsetail growing around the pond?" The love of gardening and challenges continue
Gardening with Kids Camp Y-Koda 2019
Camp Y-Koda is a Sheboygan County YMCA summer camp. For the past three summers Master Gardener volunteers have worked at the camp to share fun and meaningful activities to campers – primarily Pee Wee campers (approximately 5 years old).
This summer there was a very small but mighty group of MG-volunteers working in two capacities: maintaining the vegetable garden and working with campers on nature-focused activities.  The garden was well-maintained throughout the summer and fall. These volunteers committed to working evenings and weekends so they would not disturb camp activities and often said it was one of their favorite places to work.  Activities for the children included planting a vegetable garden, building a scarecrow and other nature-oriented projects. We were also able to add two nature walks around the pond. One of the walks was for the Pee Wee campers and the other was for campers between the ages of 7 and 10.  During these walks the guide talked about the prairie flowers, pointed out insects, discussed the importance of prairies and answered questions. SUMMARY: MG volunteers offered an activity six out of the 11 weeks of camp, served just under 100 children (many of whom were there on a financial scholarship), and maintain the garden.  I think I can speak on behalf of the Camp Y-Koda MG volunteers by saying that volunteering at camp is one of the most rewarding MG volunteer projects we do – the smiles, hugs and engaged curiosity just can't be matched anywhere else. 
Engaging Everyone with Sensory Garden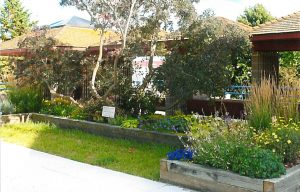 The raised bed Sensory Garden, designed to be enjoyed by people of all abilities is wheelchair accessible. It has been designed, planted and maintained by Sheboygan County Master Gardener Volunteers for 30 years. It is located on a heavily traveled street close to both Lake Michigan and the riverfront and viewed and appreciated by countless people daily.
---
By the Numbers