The Master Gardener Program in Winnebago county started in 1990. Over 533 people have been trained since that time, and there are currently 92 certified Master Gardener Volunteers (MGVs) for 2018. The UW-Extension Educator facilitating the MG Program is Horticulture Educator Kimberly Miller.
---
Volunteer Service in 2017
| | |
| --- | --- |
| Youth Education | 244 hours |
| Adult Education | 1,542 hours |
| Support | 5,386 hours |
| Total | 7,172 hours |
Since 2000: 111,326 hours at a value of over $2,102,131
---
* using the current estimated dollar value of volunteer time in Wisconsin of $23.06 per hour, from Independent Sector. Cumulative value based on previous annual estimates.
Where you can find activities by MGVs
Omro Carter Memorial Library
Neenah Shattuck Park
Neenah Octagon House
Oshkosh Area Humane Society Garden
Oshkosh Farmers Market
Park View Health Center
Morgan House
Paine Gardens & Arboretum
Educating Youth on Natural Communities
MGVs worked with the Oshkosh Area School District and its volunteers to educate students about natural communities and invasive species utilizing Sullivan's Woods, a 40 acre woodland encompassing remnants of forest and savanna, a pond, and an old field and wetland of predominately reed canary grass. Annually, about 650 students, pass through these woods, once in the spring as 4th graders and once in the fall as 5th graders. Over 50,000 students have been educated on habitat types; and experience plants and animals through hands-on activities.
Increasing Accessibility to Fresh Foods
MGVs and others partnered with the Oshkosh Area Community Pantry to help increase access to affordable fresh fruits and vegetables for low- income families in the county. A series of three classes taught pantry customers nutrition basics, benefits to growing their own fruits and vegetables along with how to plant and care for a container garden. Each family received their own vegetable and herb container garden. The program inspired and supported residents to grow their own food.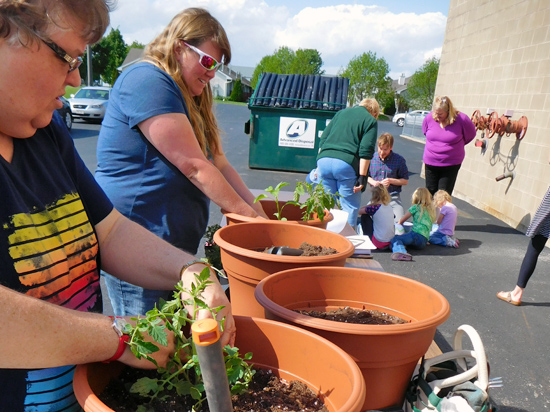 Neenah Public Library Welcomes Butterflies
MGVs registered the library's perennial garden they planted to receive the Million Pollinator and Monarch Watch Waystation designations. Following their leadership, Neenah Mayor Dean Kaufert took the National Wildlife Federation's Mayor's Monarch Pledge committing future resources and care for the library gardens, to create additional habitat for the monarch butterfly and pollinators, and to educate citizens about how they can make a difference at home and in their community.