The Master Gardener Program in Waushara County started in 2001. Over 165 people have been trained since that time, and there are currently 26 certified Master Gardener Volunteers (MGVs) for 2018. The UW-Extension Educator facilitating the MG Program is Agriculture Agent Ken Williams.
---
Volunteer Service in 2017
| | |
| --- | --- |
| Youth Education | 17 hours |
| Adult Education | 284 hours |
| Support | 1,915 hours |
| Total | 2,215 hours |
Since 2001: 32,351 hours at a value of over $621,250
---
* using the current estimated dollar value of volunteer time in Wisconsin of $23.06 per hour, from Independent Sector. Cumulative value based on previous annual estimates.
Where you can find activities by MGVs
Hancock Research Station Gardens
Waushara County Fairgrounds
Covered Bridge gardens
Wild Rose Library seed exchange
Redgranite Library garden
Bird Creek Park
Wautoma City Hall
Wautoma Library seed exchange
Educating the Public
MGVs educated over 900 people through hosting speakers, providing extension publications on a wide range of horticultural topics and answering questions at various events throughout the county which included several designed to reach under served populations. "Door prizes" of plants were offered at several of these events to encourage people to visit the booth which was resoundingly successful in getting visitors to stop by, selecting information and asking questions.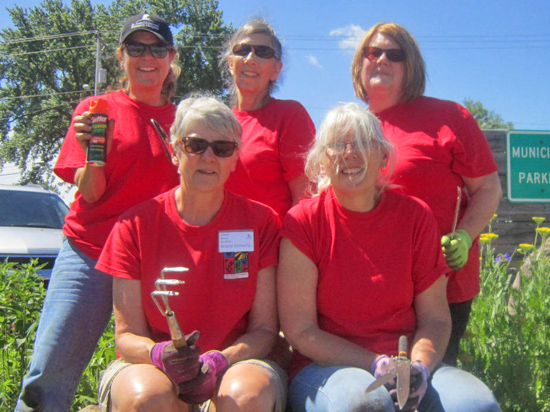 Teaching Children About Gardening
MGVs partnered with local schools to do hands- on teaching of gardening to almost 200 children. Children were taught how to plant one of an assortment of flower and vegetable seeds in a mini greenhouse to take home and provided with written instructions for ongoing care. They also were given the opportunity to participate in a contest to grow the best sunflower and prizes given at end of season.
Gardens Demonstrate Plants and Techniques
MGVs partnered with Hancock Research Station staff to maintain 5 acres of gardens containing annuals, perennials, shrubs, small trees fruits. Plants have signage to educate the public on what can be grown in our zone and soil, areas of shade, areas of sun as well as a demonstration of a raised bed that is accessible for those that might not be able to bend and several square foot vegetable and herb gardens. Produce is donated to the food pantry. Gardens are open to the public from dawn until dusk and in August MGVs were present throughout the garden for the Research Station tour and open house.