The Master Gardener Program in Washington County started in 2009. Over 180 people have been trained since that time, and there are currently 39 certified Master Gardener Volunteers (MGVs) for 2018. The UW-Extension Educator facilitating the MG Program is Agriculture Educator Stephanie Plaster.
---
Volunteer Service in 2017
| | |
| --- | --- |
| Youth Education | 94 hours |
| Adult Education | 286 hours |
| Support | 4,039 hours |
| Total | 4,418 hours |
Since 2009: 24,159 hours at a value of over $505,454
---
* using the current estimated dollar value of volunteer time in Wisconsin of $23.06 per hour, from Independent Sector. Cumulative value based on previous annual estimates.
Where you can find activities by MGVs
Germantown Community Gardens
West Bend Community Gardens
Harƞord Park "Jumping Cows" Garden
West Bend Farmers Market
Washington County Fair Park
Plant Health Telephone Hot Line
West Bend Library Lecture Series
State Wisconsin MGA Conference
Hosting the State MG Conference
MGVs hosted the Master at the Prairie Wisconsin Master Gardener Association State Conference in October at West Bend Mutual Insurance Company Prairie Center. 16 entertained 150 attendees on Friday and 172 on Saturday. Topics ranged from growing lavender to growing succulents, gardening for pollinators to deer resistant gardens, herb gardening to gardening tools. Other events included delicious meals, 15 local vendors featuring many garden-related items, a Holland bulb sale, free seeds packets donated by local stores, and a silent auction.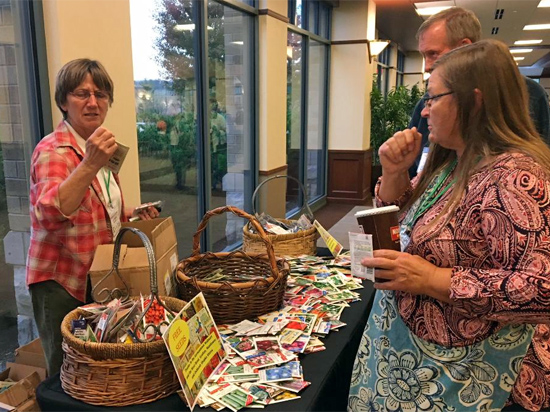 Produce for Seniors
Two Washington County community gardens and the fair garden supply fresh vegetables to local senior centers on a weekly basis during the growing season. Beans, tomatoes, Swiss chard, potatoes, kale, cucumbers, onions, beets, kohlrabi, zucchini, yellow squash, peppers, Brussels sprouts, eggplant, and herbs are provided free for seniors. This season, 600 pounds of produce were delivered to the West Bend and Germantown senior centers. This helps seniors who no longer garden, don't visit local farmers markets, or won't purchase fresh produce at grocery stores.
Providing Gardening Information
MGVs bring garden information to the public with our Washington County Fair Park gardens, the Ag Adventureland children's booth at the County Fair, our West Bend Farmers Market booth, at West Bend Library garden lectures, and with our Plant Health Telephone Hotline. New this year is a line of informational brochures, researched and written by our own MGVs, first available at the state conference.