The Master Gardener Program in Washburn County started in 1999. Over 160 people have been trained since that time, and there are currently 15 certified Master Gardener Volunteers (MGVs) for 2018. The UW-Extension Educator facilitating the MG Program is Agriculture Agent Kevin Schoessow.
---
Volunteer Service in 2017
| | |
| --- | --- |
| Youth Education | 182 hours |
| Adult Education | 131 hours |
| Support | 907 hours |
| Total | 1,219 hours |
Since 2000: 19,614 hours at a value of over $364,651
---
* using the current estimated dollar value of volunteer time in Wisconsin of $23.06 per hour, from Independent Sector. Cumulative value based on previous annual estimates.
Where you can find activities by MGVs
Spooner Agriculture Research Station
Teaching and Display Garden
School Gardens in Spooner
Spooner Food Pantry Garden
Spooner Library
Washburn County Family Fest
Hunt Hill Audubon Sanctuary
Washburn County Fair
Garden Demonstrates Ornamental Edibles
The Spooner Agriculture Research Station Teaching and Display Garden is designed and maintained with the help of volunteers. During the growing season the garden hosts many training events and has visitors from schools, garden clubs, and residents of the area. The garden has won national awards for the past five years from the All American Selections Landscape Garden Design Contest, this year winning first place with the theme of Ornamental Edibles. The judges were impressed with the overall designs in the gardens and also how garden staff and volunteers promoted the contest with newsletters, workshops, events and multiple media outreach.
Mini-Master Gardeners
We host an annual Mini Master Gardener Short Course for youth and their families every spring. This year 30 children attended the Saturday workshop session held at a local greenhouse. The participants explore the secrets of soil, incredible edibles, seeds, sprouts and shoots; paper pots; and tomato transplants.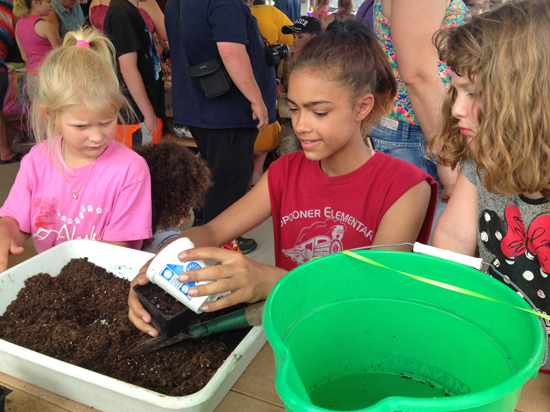 Helping at Hunt Hill Audubon Sanctuary
Hunt Hill Audubon Sanctuary in Sarona benefits from MGVs assisting with maintaining the native plantings and staffing programs. MGVs staffed a booth at the annual Prairie Fling to help educate local residents and visitors. One of 35 booths, MGVs greeted visitors with their families, provided information and a hands-on family activity: making newspaper pots, planting bean seeds, and quizzing/ reviewing what plants need to grow.