The Master Gardener Program in St. Croix County started in 1997. Over 405 people have been trained since that time, and there are currently 92 certified Master Gardener Volunteers (MGVs) for 2018. The UW-Extension Educator facilitating the MG Program is Horticulture Educator Diana Alfuth.
---
Volunteer Service in 2017
| | |
| --- | --- |
| Youth Education | 242 hours |
| Adult Education | 310 hours |
| Support | 2,850 hours |
| Total | 3,403 hours |
Since 2000: 51,125 hours at a value of over $960,919
---
* using the current estimated dollar value of volunteer time in Wisconsin of $23.06 per hour, from Independent Sector. Cumulative value based on previous annual estimates.
Where you can find activities by MGVs
Hudson Farmers Markets
New Richmond Community Garden
Houlton School Garden
CCH Therapy Garden
St. Croix County Fair
St. Patrick School Garden
Willow River Elementary School
Hudson and New Richmond Parks
Showcasing Growing Vegetables
MGVs expanded their St. Croix County fair presence this year with a large educational display about growing vegetables in small spaces. A landscape beautification project around a fairground building provided the backdrop   for a display showing various small space gardening techniques, including containers, a pallet garden, a straw bale garden, a small raised bed, a vertical planter and more. MGVs were on hand to discuss each of these methods with hundreds of people, and to provide written instructions about how to be successful at home.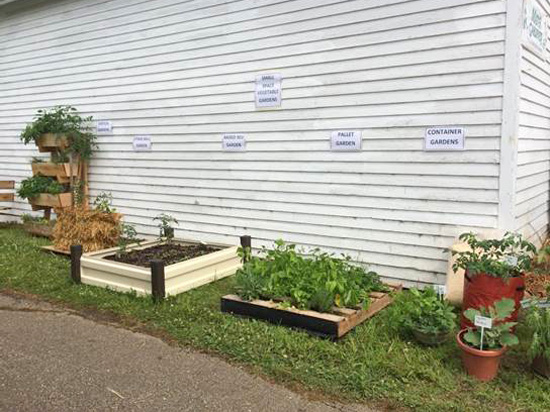 Providing Timely Information on Pests and More
Local farmers markets are an effective location for MGVs to educate the public. Market attendees often seek information on growing produce at home, and also have questions about yards, landscapes and houseplants. MGVs attend the market each week and provide educational and diagnostic services. Because of the regular weekly presence, MGVs are able to provide timely information about current issues, such as Japanese beetles and late blight.
Increasing Knowledge to be More Effective MGVs
Each fall the St. Croix Valley MGA hosts a fall educational workshop for area MGVs to help them increase their knowledge to be better and more effective MGVs. This year's theme was plant propagation. Attendees learned about fruits and grafting methods, propagating sedum and other perennials, seed collecting and saving, and more. This workshop, for MGVs only, provides an opportunity for MGVs to receive a high level of technical information so that they are better prepared to teach others.