The Master Gardener Program in Portage Co. started in 1991. Over 317 people have been trained since that time, and there are currently 36 certified Master Gardener Volunteers (MGVs) for 2018. UW-Extension Agriculture Agent Ken Schroeder facilitates the MG Program in Portage Co.
---
Volunteer Service in 2017
| | |
| --- | --- |
| Youth Education |  255 hours |
| Adult Education | 1279  hours |
| Support | 1386  hours |
| Total |  2920 hours |
Since 2000: 66,025 hours at a value of over $1,203,312
* using the current estimated dollar value of volunteer time in Wisconsin of $23.06 per hour, from Independent Sector. Cumulative value based on previous annual estimates.
Where you can find activities by MGVs
MGVs in Portage Co.
UW-Stevens Point Schmeekle Reserve
Stevens Point YMCA Giving Garden
Rosholt Fair
Golden Sands Home and Garden Show
Portage County libraries
Stevens Point Farmers Market
Master Gardener Plant Sale
Aging and Disability Resource Center
Supporting YMCA Giving Gardens
MGVs worked in cooperation with the YMCA to plant, maintain, and harvest produce from 26 raised beds located at the YMCA. More than 800 pounds of produce was distributed to students, their families and elderly and disabled citizens through the Aging and Disability Resource Center. Students in YMCA programs participated in weekly learning experiences focusing on growing fruit and vegetables and healthy eating. Each student had hands-on experience with their own small garden site, as well as helping with the raised beds.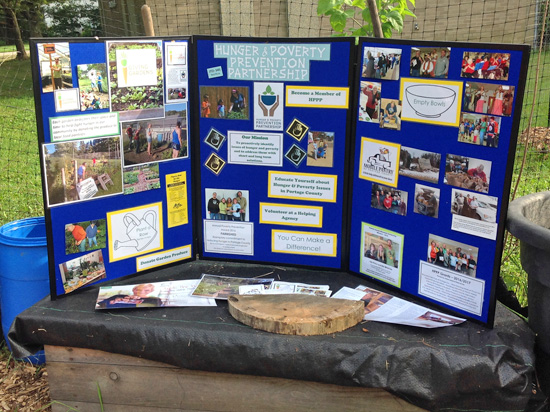 Educating the Public About Pollinators and More
MGVs presented Garden Dreams, a one-day educational workshop open to the public, which included talks on beekeeping and plants for pollinator gardens. Education on pollinators remained a focus at the Plover Public Library garden site, as well as a special display developed in conjunction with the UWSP Schmeekle Reserve Visitor Center. Additional displays at this year's Garden Parade included presentations on cavity-nesting songbirds, sustainable organic farming, and community food security efforts through the Giving Gardens Program.
Enhancing Food Security
About $2,000 in donations collected at this year's Garden Parade was given to Backpacks for Hope to provide supplemental food through the Boys and Girls Club of Portage County to school-age children who might otherwise go hungry on the weekends when they do not receive meals at school. Volunteers fill backpacks with enough food for four meals and an additional snack for each child for a weekend.