The Master Gardener Program in Bayfield County started in 1996. Over 150 people have been trained since that time, and there are currently 10 certified Master Gardener Volunteers (MGVs) for 2018. The UW-Extension Educator facilitating the MG Program is Horticulture Educator Matt Cogger.
---
Volunteer Service in 2017
| | |
| --- | --- |
| Youth Education | 2 hours |
| Adult Education |  9 hours |
| Support |  502 hours |
| Total |  513 hours |
Since 2000: 11,125 hours at a value of over $208,758
---
* using the current estimated dollar value of volunteer time in Wisconsin of $23.06 per hour, from Independent Sector. Cumulative value based on previous annual estimates.
Where you can find activities by MGVs
Northern Great Lake Visitor Center
Forest Lodge, Cable
Namakagon
Bayfield Pavillion, Bayfield
Green Thumb Community Garden, Cable
Aldo Leopold Garden, Ashland
Fountain Garden Park, Bayfield
Iron River
Gardens Enhance Namakagon
In the town of Namakagon two MGVs have planted and maintained four gardens. The planting started with the volunteers purchasing annuals, perennials and bulbs for the gardens. It also includes starting seeds in their home and caring for canna bulbs for the last 25 years. During the growing season the volunteers checked water needs and maintaining the water system, weeding, deadheading of annuals, pest control (voles, deer and insects) and general maintenance required for northern WI gardens.
Helping Maintain a Historic Place
Forest Lodge is an 870 acre estate on the south shore of Lake Namakagon in Bayfield County that was gifted to the American people to preserve and enjoy. It was added to the National Register of Historic Places in 2002. MGVs have been actively involved in a cooperative and continuous effort with the U.S. Forest Service, HistoriCorps, "Friends" of Forest Lodge, and Northland College of Ashland to maintain this scenic spot.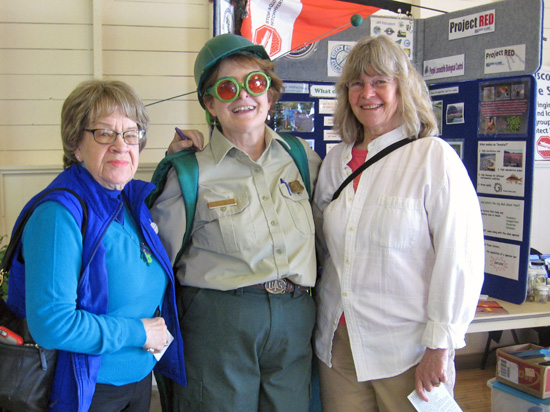 Showcasing the Artistic Side of Horticulture
Inspired by Nature is an art show organized by MGVs that features work that focuses on the artistic side of horticulture. This art show which includes a variety of different artistic mediums opened November 9th at the Northern Great Lakes Visitor Center and will remain in place until June of 2018. The Northern Great Lakes Visitor Center receives a large amount of traffic throughout the year and this art show is an excellent method of providing visibility to the Master Gardener Program.