The Master Gardener Program in Marquette County started in 1998. Over 138 people have been trained since that time, and there are currently 9 certified Master Gardener Volunteers (MGVs) for 2018. The UW-Extension Educator facilitating the MG Program is Agriculture Educator Lyssa Seefeldt.
---
Volunteer Service in 2017
| | |
| --- | --- |
| Youth Education | 108 hours |
| Adult Education | 114 hours |
| Support | 515 hours |
| Total | 737 hours |
Since 2000: 28,048 hours at a value of over $511,032
---
* using the current estimated dollar value of volunteer time in Wisconsin of $23.06 per hour, from Independent Sector. Cumulative value based on previous annual estimates.
Where you can find activities by MGVs in Marquette Co.
Marquette County Fair
Endeavor Sharing Supper
Family Adventure Day
Marquette Co. Historical Soc. Gardens
Marquette Co. Interactive Nature Trail
Fish 'N' Fun Festival
Westfield Library
Educational Outreach Programs
Children Learn in Library Garden
MGVs partnered with the Westfield Library to install 4 raised beds (purchased with funds from the annual fruit tree sale). Over 100 youth participated in planting harvesting and playing in this garden. We kicked off the gardening season with a story as well as a make-and-take seed planting. Fairy gardens were installed to attract additional interest. Over 200 pounds of produce was harvested and donated to the community. One of the youth bubbled over with enthusiasm when it was garden time….."I LOVE being in the garden!". Also heard by one incredulous youth: "There are really purple tomatoes?".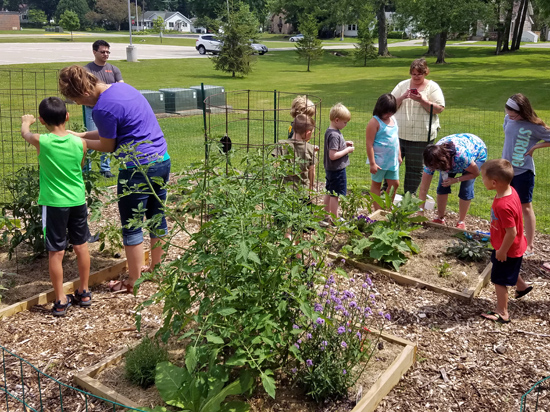 Encouraging Produce Donations
Plant A Row for the Hungry (PAR) is a public service program of the Garden Writers of America, launched in 1995. This year MGVs distributed over 100 packets of free seeds to encourage local gardeners to plant an extra row of vegetable plants to donate to their local food pantry, food bank, or soup kitchen.
Fair Booth Offers Information, Answers
MGVs were back at the county fair with the Ask A Master Gardener booth. MGVs answered questions, distributed UW-Extension factsheets, and engaged the younger audience in gardening with plant coloring books and identification cards.
Annual Fruit Tree Sale Increases Produce Access
Each spring MGVs host a fruit tree and small plant sale. Once again, over 1,000 trees and small food plants were sold at economical prices to the community. This sale creates needed access to local produce, allowing the community to be more food secure.