The Master Gardener Program in Marathon County started in 1995. Over 355 people have been trained since that time, and there are currently 56 certified Master Gardener Volunteers (MGVs) for 2018. The UW-Extension Educator facilitating the MG Program is Dairy Agent, MGV Advisor and Home Horticulture Advisor Heather Schlesser.
---
Volunteer Service in 2017
| | |
| --- | --- |
| Youth Education | 24 hours |
| Adult Education | 425 hours |
| Support | 4,482 hours |
| Total | 4,930 hours |
Since 2000: 76,031 hours at a value of over $1,411,614
---
* using the current estimated dollar value of volunteer time in Wisconsin of $23.06 per hour, from Independent Sector. Cumulative value based on previous annual estimates
Where you can find activities by MGVs in Marathon Co.
Rib Mtn State Park Wildflower Project
Monk Botanical Garden
Cedar Creek Garden, Home & Rec Show
Garden Walk with named plants
Annual Plant Sale with guidance
Garden Programs
Woodson Art Museum
Garden Clinic at UW Extension
Garden Attracts Pollinators and People
Pollinators are coming to the native wildflowers in Rib Mountain State Park in a new planting around Rib Mountain's new Friends Gathering Space. This spring MGVs installed 865 plants on a shady east slope that would control erosion, enhance the view and attract pollinators. This summer over 110 people came to see two educational exhibits in the gardens as part of our 2017 Garden Walk tour. In addition, shelter users, families, hikers and photographers are enjoying the new gardens while learning about the labeled plants and attracted pollinators.
Demonstration Kitchen Garden
Planting a vegetable garden just outside the kitchen door provides easily accessible healthy vegetables for family meals. Wausau's Monk Botanical Gardens has raised beds for its large demonstration kitchen garden right next to their outdoor kitchen. Cooking demonstrations frequently start with picking ripe vegetables directly from the Kitchen Garden. Several community groups, including MGVs, maintain Monk's Kitchen Garden. This year, MGVs developed the west border as a salsa garden, while the north border had ingredients for fresh vegetable soup.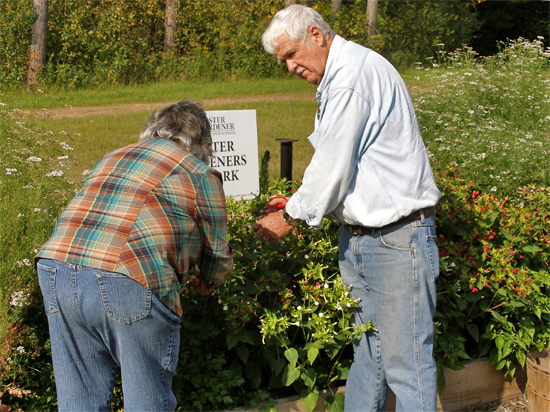 Annual Winter Conference Educates Gardeners
Garden Visions, our annual Friday evening- Saturday winter conference, is designed to enhance participants' plant and gardening knowledge. Attendance is steady each year with an average of 350 enthusiastic MGVs and Midwest gardeners coming to network and learn. Attendees can choose from a wide range of topics by national and local speakers in 15 breakout sessions.