The Master Gardener Program in Lincoln County just started in 2014. Over 14 people have been trained since that time, and there are currently 4 certified Master Gardener Volunteers (MGVs) for 2018. The UW-Extension Educator facilitating the MG Program is Agriculture Development Educator Dan Marzu.
---
Volunteer Service in 2017
| | |
| --- | --- |
| Youth Education | 35 hours |
| Adult Education | 53 hours |
| Support | 141 hours |
| Total | 228 hours |
Since 2014: 798 hours at a value of over $17,995
---
* using the current estimated dollar value of volunteer time in Wisconsin of $23.06 per hour, from Independent Sector. Cumulative value based on previous annual estimates.
Where you can find activities by MGVs
Tall Pines Community Garden
Pine Crest Nursing Home
Pine River School for Young Learners
Merrill Enrichment Center
Boy Scouts
TB Scott Free Library
Live Sustainable, Lincoln Co. HCE Group
Pine River Middle School
Youth Introduced to Growing Vegetables
In collaboration with the 4-H Cloverbud and Vegetable Projects MGV assisted with the first annual Youth Garden Giants Program at the community garden. Ten youth participated in the program. Each child was able to plant kohlrabi, cabbage, carrots, and beets in small garden plots. Prior to the fair a workshop was held to discuss with the youth how to properly clean and prepare the vegetables for the fair. At the end of the season they are able to take their produce home.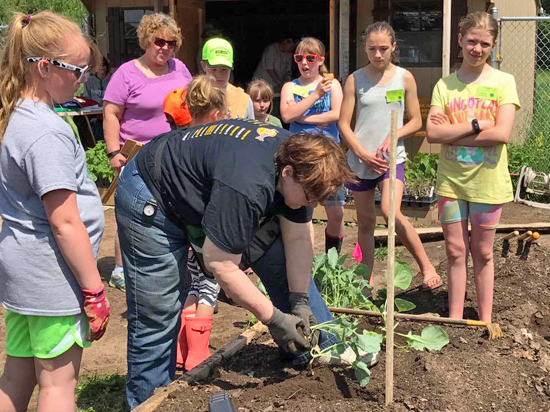 Nursing Home Residents Engaged in Gardening
MGVs continued gardening activities with Pine Crest Nursing Home in Merrill. With funds from a Wisconsin Partnership Program Grant through the UW School of Medicine and Public Health MGVs built a strawberry tower for the residents. In addition to the container gardens they assisted the residents in planting a raised bed for herbs, green beans, kohlrabi, and squash. Gardening activities or opportunities for the residents to reminisce about their garden were provided weekly. Twelve residents participated in the program.
Planting Welcomes Visitors
Since 2014, MGVs have landscaped the roundabout in Merrill that was once overgrown with weeds. Funding for the roundabout comes through Park City Garden Club and plant donations from area businesses and organizations. In 2017, they put in over 50 hours planning, planting, and maintaining the roundabout landscape to create an attractive area on this main thoroughfare through town to make the area more welcoming to visitors.