The Master Gardener Program in Lafayette County started in 2002. Over 61 people have been trained since that time, and there are currently 4 certified Master Gardener Volunteers (MGVs) for 2018. The UWEX staff member facilitating the MG Program is Lisa Carpenter.
---
Volunteer Service in 2017
| | |
| --- | --- |
| Youth Education | 14 hours |
| Adult Education | 70 hours |
| Support | 207 hours |
| Total | 291 hours |
Since 2002: 6,425 hours at a value of over $120,296
---
* using the current estimated dollar value of volunteer time in Wisconsin of $23.06 per hour, from Independent Sector. Cumulative value based on previous annual estimates.
Where you can find activities by MGVs
Argyle tiered garden
Argyle Main Street
Yellowstone Church garden
Lafayette County Manor
Lafayette County Fairgrounds
Wiota Lutheran Church
Wiota School house
Johnson Public Library
Enhancing the Village of Argyle
MGVs worked with the Argyle Chamber of Commerce in the Village of Argyle maintaining a 3 tiered garden by the library and planting the large flower pots along Main Street. We planted, weeded, and trimmed annuals, perennials and put in the bulbs in the fall for spring color next year. Signs were added to the bottom tier of the library planting to make this an educational area for passers-by and visitors to the library. We have saved the canna bulbs from the flower pots in an effort to start them next spring and grow more of the plants used in the pots and the garden.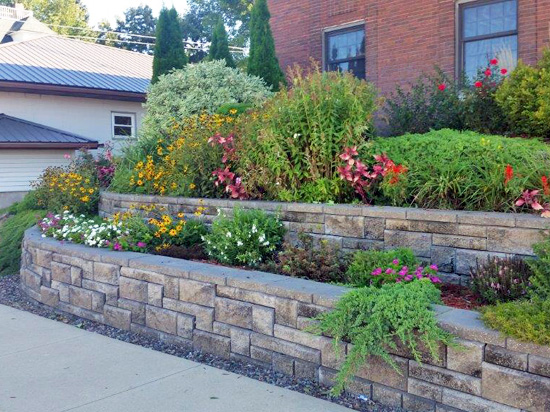 Brightening the Lafayette County Fairgrounds
MGVs built two raised gardens at the entrance of the Lafayette County Fairgrounds to create a bright and welcoming addition at the entrance to the fairgrounds. The beds were filled with soil and a variety of brightly colored annuals from local greenhouses were installed in the gardens, then mulched. Throughout the summer MGVs watered and weeded the new gardens to keep the plantings looking inviting to visitors. In the future we hope to add a collection of perennials along with annuals.
Providing Gardening Information to Residents
One MGV has been writing a gardening article that is included in the local paper every week for many years. The topic of each article is focused on the current time of year to provide valuable, timely information for local residents. MGVs answer gardening questions through the garden help line throughout the year, as well as at booths at the Farmers Market in Argyle and at the Lafayette County Fair