The Master Gardener Program in Jackson County started in 2000. Over 100 people have been trained since that time, and there are currently 8 certified Master Gardener Volunteers (MGVs) for 2018. The UW-Extension Educator facilitating the MG Program is Agriculture Agent Trisha Wagner.
---
Volunteer Service in 2017
| | |
| --- | --- |
| Youth Education | 43 hours |
| Adult Education | 524 hours |
| Support | 348 hours |
| Total | 915 hours |
Since 2000: 8,474 hours at a value of over $170,423
* using the current estimated dollar value of volunteer time in Wisconsin of $23.06 per hour, from Independent Sector. Cumulative value based on previous annual estimates.
Where you can find activities by MGVs
in Jackson Co.
Spaulding Road Community Garden
Jackson County Farmers Market
Jackson County Fair
Jackson County Dairy Breakfast on the Farm
Jackson County Green Life Expo
Jackson County Boys and Girls Club
Black River Falls Garden Clubs
Helping Connect People With Fresh Produce
Once again MGVs assisted with the production of the 2017 Map of Jackson County Produce Farms. This publication provides information and a map of produce farms across the county where residents can can conveniently find fresh produce so they will be more likely to increase their consumption of fruits and vegetables. The map has been produced by Jackson County UW-Extension since 2010 in print form, but this year became available in an interactive version. The digital version can accessed on a smartphone via a QR code or from the Jackson County UW-Extension website.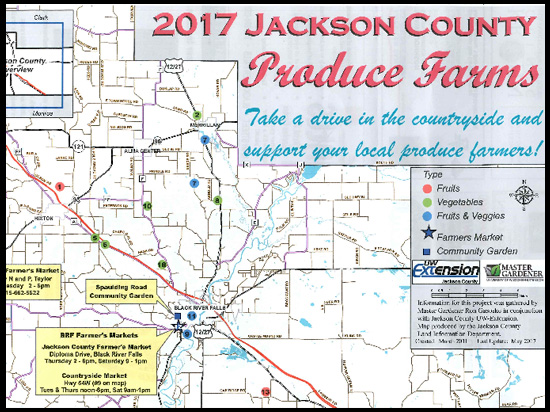 Growing Milkweeds for Monarch Butterflies
MGVs continued to maintain a plot of milkweed as participants in the US Fish & Wildlife Service Partners Program, in order to help provide habitat for threatened monarch butterflies. MGVs collect and distribute seeds and encourage local residents to plant or conserve wild milkweed.
Enhancing Elder Care
MGVs worked with an adult day care facility that has raised bed planter boxes for residents to use. MGVs guided participants in planting and maintenance activities and provided assistance to facility staff to further the program for their clientele.
Teaching Children About Gardening
MGVs taught children in the Jackson County Boys and Girls Club in a weekly garden education program at the Spaulding Road Community Garden. An average of 10 kids in each of the 12 sessions learned about planting seeds, how plants grow, and taking care of a garden.