The Master Gardener Program in Dane County started in 1981. Over 1,790 people have been trained since that time, and there are currently 185 certified Master Gardener Volunteers (MGVs) for 2018. The UW-Extension Educator facilitating the MG Program is Horticulture Educator Lisa Johnson.
---
Volunteer Service in 2017
| | |
| --- | --- |
| Youth Education | 589 hours |
| Adult Education | 1,645 hours |
| Support | 14,107 hours |
| Total | 16,430 hours |
Since 2000: 233,983 hours at a value of over $4,385,938
---
* using the current estimated dollar value of volunteer time in Wisconsin of $23.06 per hour, from Independent Sector. Cumulative value based on previous annual estimates.
Where you can find activities by MGVs
Olbrich Botanical Gardens
UW-Arboretum
Farmer's Markets in Dane County
Various School Gardens
Lussier Family Heritage Center Prairie
Various Community Gardens
UW – Allen Centennial Gardens
Agrace Hospice Care
Prairie Restoration in Local Park
MGVs began restoration of a three acre prairie near the Lussier Family Heritage Center, a part of Capital Springs Recreation Area, in cooperation with Dane County Parks Department. Over 100 volunteer hours were dedicated to removing invasive plants and transplanting prairie plants. The parks department spread native seed on the area this fall.
Symposium Focuses on Urban Gardening
The Madison Area MG Association (MAMGA) held an Urban Gardening symposium with 60 members in attendance. Various facets of urban gardening were highlighted including the history of urban gardening, vegetables, ornamentals, involving youth, chickens and city zoning. MGVs brainstormed on how they could support urban gardening in Madison, developing a list that will serve as a source for potential future projects for MAMGA.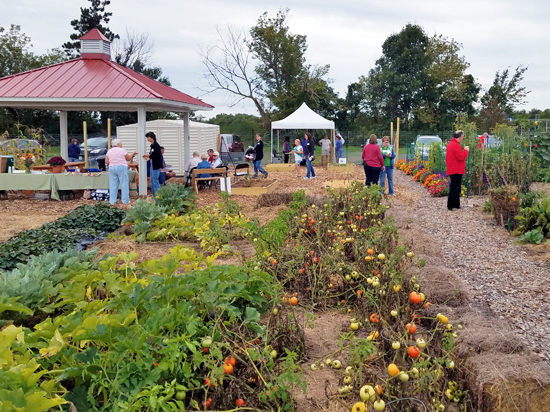 School Gardens Enhanced for Better Learning
MAMGA provided $1500 in grants to support local projects. Nuestro Mundo, a Spanish-immersion elementary school in Madison, used their portion to purchase tools for the students to plant and maintain their garden areas which are used as outdoor classrooms. They have prairie plants, a weather station, benches built by parents, and a Green Roof atop the Little Free Library. Students are starting a composting program and have just incorporated containers of vegetables. At Lowell Elementary Schools, over 50 volunteers built 12 raised beds, with a raised bed for each grade and additional higher beds for special needs children. Each classroom spent 30 minutes each week working in their raised bed planting seeds, seedlings and harvesting crops.