The Master Gardener Program in Crawford County started in 2000. Over 90 people have been trained since that time, and there are currently 22 certified Master Gardener Volunteers (MGVs) for 2018. The UWEX staff member facilitating the MG Program is Karen Snitker.
---
Volunteer Service in 2017
| | |
| --- | --- |
| Youth Education | 116 hours |
| Adult Education | 184 hours |
| Support | 2,595 hours |
| Total | 2,895 hours |
Since 2000: 27,684 hours at a value of over $526,323
---
* using the current estimated dollar value of volunteer time in Wisconsin of $23.06 per hour, from Independent Sector. Cumulative value based on previous annual estimates.
Where you can find activities by MGVs
Boscobel School Forest & Garden
Villa Louis flower beds
Blackhawk Avenue flower pots
St. Patrick's Day Parade, Prairie du Chien
Memorial Gardens, St. Feriole Island
Ask a Master Gardener
Crawford County Fair
Spring It On, North Crawford School
Youth Program Wins State Award
Kids in the Garden, a new hands-on garden program started by MGV Donna Teynor, was awarded the2017 Silver Award for the best youth program in Wisconsin by the Wisconsin Parks and Recreation Association. Prairie du Chien's Parks and Recreation department donated an area of their Memorial Garden on St. Feriole Island for this project. Each of the six sessions covered a different topic, with an activity, short lecture, and book reading related to the theme, plus tastings where appropriate, in addition to the normal garden maintenance activities. An average of 15-20 kids came to each session with 27 children at one of the afternoon sessions.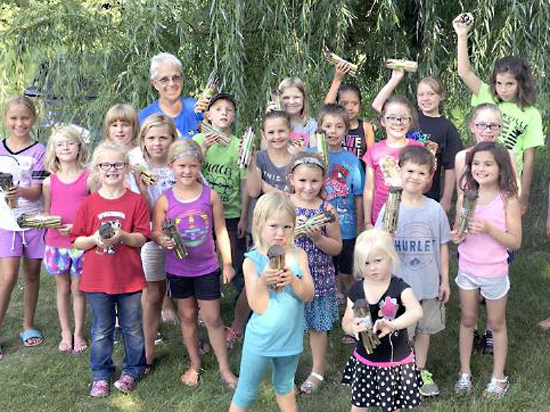 Garden Registered as Monarch Waystation
Maintenance of a flower garden established several years ago by MGVs at the Crawford County Fairgrounds was taken over by MGVs Marla Hurley and Caprice Ellefson this year and expanded to become the Birds and the Bees Pollinator Garden. They also registered it as a Monarch Waystation by providing the necessary resources for these native butterflies such as milkweed plants for breeding and nectar-producing flowers to sustain their migration.
Taking A Sensory Garden on the Road
Working in five teams of four, MGVs created a Mobile Sensory Garden to educate and engage the community. Each team focused on one of the five senses, and planted two pots each with plants that represented the sense that they were assigned. The mobile "garden" was first displayed at the county fair and then moved to the Crawford County Administration Building for everyone to enjoy.