The Master Gardener Program in Brown County started in 1979. Over 355 people have been trained since that time, and there are currently 74 certified Master Gardener Volunteers (MGVs) for 2018. The UW-Extension Educator facilitating the MG Program is Horticulture Educator Vijai Pandian.
---
Volunteer Service in 2017
| | |
| --- | --- |
| Youth Education |  146 hours |
| Adult Education |  215 hours |
| Support |  3,611 hours |
| Total |  3,971 hours |
Since 2000: 74,762 hours at a value of over $1,359,426
---
* using the current estimated dollar value of volunteer time in Wisconsin of $23.06 per hour, from Independent Sector. Cumulative value based on previous annual estimates.
Where you can find activities by MGVs
Brown Co. Central Library Garden
Green Bay Botanical Garden
Green Bay School Head Start Garden
Heritage Hill State Park
Neville Public Museum
St. Philip Catholic Church Pantry Garden
Unity Hospice Native Plant Garden
YMCA Square Foot Garden in Howard
A Special Habitat for Pollinators and the Community
MGVs have been planting and maintaining native flower gardens along the Riverwalk for the City of De Pere. This year the project received certification as a Monarch Waystation Habitat by Monarch Watch. This project not only provides support to native pollinators but provides education to the public on a wide variety of native plants while beautifying a recreational area. In July, 44 MGVs attended a tour of the garden hosted by the project volunteers.
Growing Nutritious Foods for Others
The St. Mark's Garden Project in De Pere is an organically grown garden providing fresh foods for the church's community food pantry. This included 23 different vegetables and 8 varieties of herbs. In addition to providing 271 pounds of produce for the pantry, MGVs use the garden to educate pantry patrons and provide information about the planting and harvesting of each type of vegetable. MGVs grew vegetables at the Brown County Aging & Disability Resource Center (ADRC) in downtown Green Bay to provide fresh produce for the ADRC meals program.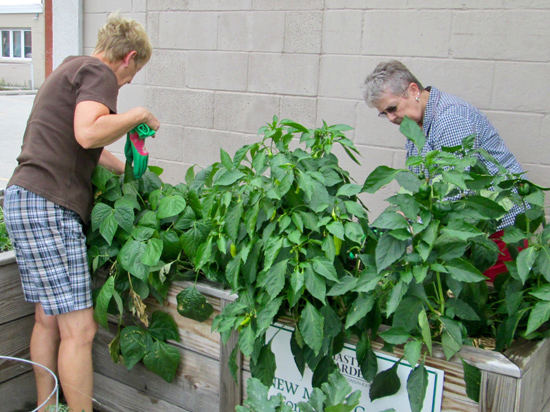 Teaching Children About Gardening
MGVs engage children at the YMCA garden in Howard to get them involved in garden upkeep, pest and weed control, and harvesting produce. The staff of the YMCA uses all the produce to develop healthy snacks and meals during summer activities. MGVs are available during the summers to help guide the children in their gardening, and later in the year one MGV taught a one hour class per week on a variety of garden/plant topics to the children in the YMCA's After School Program for 5 weeks.