The Master Gardener Program in Barron County started in 1994. Over 205 people have been trained since that time, and there are currently 31 certified Master Gardener Volunteers (MGVs) for 2018. The UW-Extension Educator facilitating the MG Program is Ag/Hort/Natural Resources Agent Tim Jergenson.
---
Volunteer Service in 2017
| | |
| --- | --- |
| Youth Education |  150 hours |
| Adult Education |  198 hours |
| Support |  1,549 hours |
| Total |  1,896 hours |
Since 2000: 39,202 hours at a value of over $705,105
---
* using the current estimated dollar value of volunteer time in Wisconsin of $23.06 per hour, from Independent Sector. Cumulative value based on previous annual estimates.
Where you can find activities by MGVs
Barron Community Garden Park
Barron County Fair Grounds
Benjamin's House, Rice Lake
Pioneer Village Museum
Rice Lake Farmer's Market
School Sunflower Project
Spring Garden Expo
Barron Co. MGA Plant Sale
MGVs are Active Plant Doctors
Ten MGVs took turns serving as "Plant Doctors" at the Rice Lake Farmers Market over the course of the 2017 season, providing evidence-based horticulture information to nearly 70 visitors. They answered questions on pest management, cultural methods of growing flowers, house plants, fruit and vegetables. They also encouraged visitors to test their garden soil by distributing dozens of soil test kits.
Growing Food for Those in Need
Five MGVs partnered with the Barron Co. FoodWise Program and other community volunteers to help grow vegetables for the needy at the Barron Community Garden during the 2017 growing season. MGVs answered questions, helped construct raised garden beds, and managed "community plots" that raised over 500 pounds of food that was donated to the Barron County Senior Nutrition Program. Over 1000 of the participants in the Senior Nutrition Program are considered "food-insecure."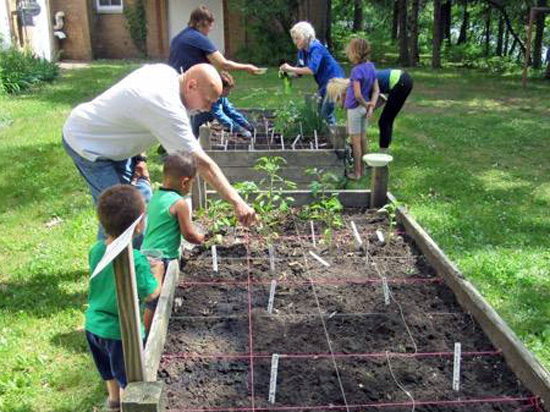 The Heart of a Master Gardener Volunteer
On May 16, 2017 a Category 3 tornado devastated parts of Barron Co., injuring dozens of people and killing one, and destroying or badly damaging hundreds of homes, including one of a MGV. Despite her devastating loss this MGV showed up four days later to help with our plant sale. She even donated some plants from her garden which were dubbed "Tornado Survivors" and were sold with other donated plants to raise funds for scholarships and other activities of the MG program. This reflects the kind, caring heart of many volunteers in the program who generously teach others about horticulture and can be an inspiration to us all.