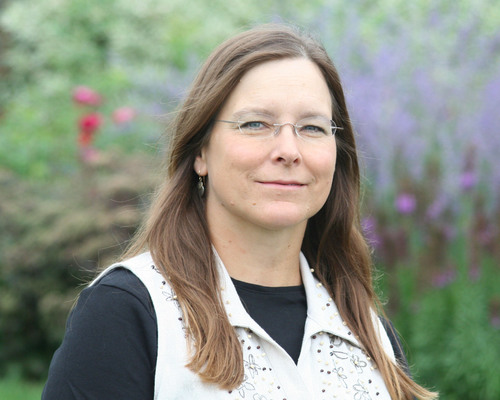 Diana Alfuth
Horticulture Educator
Pierce, Polk and St. Croix Counties UW-Extension
Well, as I look out into my far western Wisconsin backyard here in early December, I've been seeing a lot of brown.  Different shades of brown, but overall, brown.  I've been okay with brown and relatively warm temperatures for this time of year, but as I write this the temperatures are dropping and snow is predicted.  If it's going to be cold, it may as well snow enough so we can enjoy some cross-country skiing, snowshoeing, and other Wisconsin winter activities.  White is on the way to my backyard, but for now, it's been a lot of brown.
I used to leave most of my garden clean-up until spring (unless there was a disease).  Even though perennials are brown and dead, they still add winter interest.  Frost and snow collect on the dried flower heads and leaves, and birds have landing places and often seeds to eat.  But nowadays I KNOW I am always ridiculously busy in spring, so I try to do cleanup in fall.  I still leave certain perennials standing—those that have particularly positive winter attributes.  Rusty brown flat flower heads of sedum look great with snow perched on top, and echinacia and liatris seeds are favorites of finches when snow covers other food sources.  The dried seed pods of Baptisia can provide some sound as they rattle in the breeze.
I planned for winter interest as I designed my landscapes, so I do have some bright spots.  The bright red berries on the Cranberrybush Viburnum and the red crabapples on various trees catch the eye with a shot of color.  And I have a couple pieces of garden art that can stay out all year to be enjoyed, including some stained glass projects I've made that look bright and cheery against bright white snow on a sunny winter day!  Tree and shrub structure really shines in winter, and one fun feature that I've really noticed the last couple of falls is the fuzzy tufts left by the flowers of my Japanese Anemone.  This is one perennial I've come to appreciate more and more recently.
Japanese Anemone is about 3 feet tall, and comes in a variety of shades of white, pink, dark pink and purple.  The flowers are held gracefully on long stems that seem to float above the plant, which is probably why it has a common name of "windflower".  It's a late summer and fall bloomer, so it gives some interest when most of the other perennials are done.  And what I've really noticed the last month or so, after everything else turned brown, is the little fuzzy tufts flowing with the wind and catching the sun or frost.  They look very white—almost as if something is blooming—and add interest and motion to the otherwise dull garden.  To be honest, I don't know which variety I have, as I'm not very good at keeping track of those details.  Supposedly Japanese Anemone can "naturalize", or spread in the garden, but mine have been very well behaved and stayed right where I put them.
Another highlight of my otherwise brown landscape is the multi-trunked River Birch.  During the summer, the leaves on the somewhat weeping branches tend to hide the trunk and I don't notice the cool, cinnamon colored peeling bark as much.  But right now it's a strong focal point in the backyard during the day, and this tree is just begging for an uplight!!  I live in the country, where it's very dark at night.  In summer, I have a light on my garden pond waterfall that is fun to see from indoors, but I turn that off once the water starts freezing and I take the pump out of the pond, so I need something else lit up.  I've been meaning to uplight this birch tree for years and just haven't gotten to it.  The neat thing is there are LOTS of new lighting options available for this kind of thing.  Because the tree is on the backside of my lawn area, there is no electricity there so I need to look into a high powered solar uplight or two.  They can be placed a few feet out from the trunk of the tree and shine upward, allowing the peeling bark on the birch to catch the light and cast shadows providing something to look at outdoors when we're stuck inside during the dark evenings of winter.  Perhaps I should put this on my wishlist for Santa . . . .
Outdoor landscape lights are a great way to add landscape interest, but use them in moderation!  Good principles of landscape design include having a focal point and moving the eye peacefully through the landscape.  Too many focal points make the eye jump around and the view gets too busy for our brains.  Each landscape light will be a focal point, because it's going to stand out from the dark around it.   Choose your best 1-2 garden features to accent, and let the rest be dark to visually set off those focal points.  Landscape lighting shouldn't look like an airport runway!!!  But, a few accent lights can help provide landscape interest and enjoyment after dark.
Soon I'm sure my brown backyard will be somewhat hidden in white, but I'll keep evaluating if it's providing enough winter interest and try to improve  it each year.  In the meantime, I'll do one last walk through and be sure I've protected everything I need to from hungry rabbits and rodents, and then go inside to start dreaming of next year's gardening and landscaping projects!