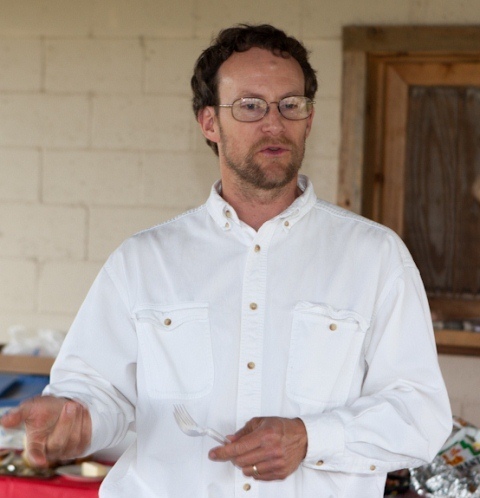 Scott Reuss
Marinette County UW-Extension Horticulture Educator
Poultry are generally not an integral part of a garden design process.  However, for many rural (and a seemingly increasing number of city) gardeners, poultry do take part in a symbiosis of systems that allow for distinctly improved home food production capacity.  Since National Poultry Day is celebrated on March 19, let's review some of the roles that poultry can safely play in a plant management system.
First, let's think recycling.  The classic reduce, reuse, recycle theme is lived out almost daily when you successfully integrate poultry and plants and the neat part is that it goes both directions.  Nearly all poultry species are very proficient at utilizing fruit and vegetable waste products that come either from your garden or your kitchen, or the ones that didn't quite stay in great shape in storage.  These types of feeds not only provide basic nutrient and energy needs, but also provide the types of compounds often missing in formulated feeds.  Recycled plant material, along with insects and other living plant tissue the birds may be able to harvest, help allow the meat and eggs coming from those birds to have the flavor, color, and textural profiles which many people crave.
Plants get into the recycling act, too.  Poultry manure and litter make great fertilizer, providing all the nutrients that plants need – albeit not always in perfect proportions.  However, there is the chance for disease or parasite transfer when utilizing manure in the garden.  We need to remember some general precautions to minimize such risks and keep ourselves safe.  The key words are time and proximity.
Proximity is pretty easy to consider.  If you are applying manure to a garden area in which you are growing fruits or vegetables, you are increasing the risk of health issues.  That is pretty simple.  However, it does not mean that you cannot or should not do so.  This is where time comes into play.  Try to follow the 120 day rule, if possible.  After placing a manure product into or onto your garden soil, do not harvest fruits or vegetables from that area for 120 days.
Yes, the 120 day rule creates timing issues for us Wisconsinites, as well as the Yoopers I often assist.  Generally, we need to apply manure in the fall to truly minimize risk in next year's crop.  However, we may be able to sneak in early-spring applications in areas which grow full-season crops, especially if they are above-ground or off-the ground crops (sweet corn, trellised vegetables, etc…).  Another way to minimize risk is to compost these products first, which adds in extra time and also decreases nitrogen management issues due either to burn potential of the manure or of too much carbon loading occurring if you use a wood product based litter.
Most poultry can serve in-season or end-of-season roles in the garden, as well.  Ducks can help you manage certain types of plant pests (insects and slugs mostly) in non-edible garden areas.  Geese can serve as weed managers, as they are very good grazers.  Guinea fowl are very good insect eaters and are even known to eat ticks, but expect that these noisy critters will create issues if you have any neighbors within earshot.
Chickens are certainly the most common and have both risks and rewards in-season.  Their scratching tendencies can help you at the end of the season, as you can turn your flock into your completed gardens and let them find insects, edible plant material, and do some shallow tillage for you that minimizes some weed issues.  However, you may often find yourself muttering, if not outright hollering and chasing them, about their exceptional ability to move mulch from around landscaped areas if they get out or figure out how to get past your fencing.  They can also cause issues for young plants, potted or containerized plants, and some other areas if they achieve accessing them.
We cannot delve into all aspects of managing poultry and plants together or separately.  A few other points, though.  For the plants, make sure you are thinking through nutrient needs, nutrient loading, and your rotations.  You can maximize the benefit of the manure by placing it into areas which are going to need the most nitrogen the next year (sweet corn, potatoes, crucifer crops) and you can also minimize risks by not placing it into areas which will be hosting shorter-season contamination vulnerable crops such as greens, root vegetables, or ground-touching vine crops.
If you are considering adding poultry, do some research first and don't succumb to buying those really cute chicks you see at a local store some shopping Saturday.  First, make sure you can legally have poultry in your municipality – contact either general municipal office or zoning department, if you have one.  Most rural areas are fine, but many cities and villages either restrict species, numbers, or sex of poultry allowed; or do not allow them, at all.
Second, you have to have a livestock premise identification number to house poultry.  It is free and easy to obtain, by going to http://wiid.org and having your location information and species of animals being housed.  Other points to consider are to be honest with yourself about why you want poultry, as the answer to that question will affect what you get, and how you house them. Get good management information and housing suggestions by visiting your UW-Extension office, or go online to either the appropriate UW-Extension links below, or another University's site. Below are two to take a look at: